CER-2015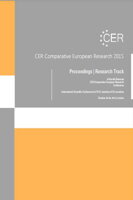 CER Comparative European Research 2015
Proceedings | Research Track
of the 4th Biannual
CER Comparative European Research
Conference
International Scientific Conference for Ph.D. students of EU countries
October 26-30, 2015 | London
THE ARTISTIC-CREATIVE COMMUNICATION BETWEEN TEACHERS AND STUDENTS AS A MEANS OF IMPROVING THEIR RELATIONS
Veronika Weberová
Comenius University in Bratislava
Račianska 59
Bratislava, 813 34, Slovakia
On department +421 2 50222 100
vewe@weronikart.sk, weberova2@uniba.sk;
Abstract: The Presentation is a result of research, focusing on the artistic-creative communication as a specific kind of dialogue between teachers and students in the school environment. Artistic-creative communication also focuses on working with a wide range of painting techniques in the school environment. More compacts with the effect artistic-creative
communications to improve communication between teachers and students/pupils (or even improving relationships in the classroom). It is also important in learning about painting techniques as a way of communication. At the same time we lead students to understand abstract art (form relationships of students to current trends in art) and to their own artistic expression.
The process of artistic-creative communication contributes to the personal development of students in contexts today. We present there the results of research with the participation of smaller groups of students (10) in adolescence. 

Keywords: artistic-creative communication, painting techniques, communication, creativity, student,